5 Practical Ways You Can Help Your Reps
Respond to the Coronavirus And Go Remote

What we are experiencing with the spread of the coronavirus is unprecedented. Your agents likely don't have tried-and-true talking points when the coronavirus comes up on their calls. The situation is confusing and sensitive, and agents are looking to you for guidance on what to tell your customers.
Use Balto's real-time call guidance to give your agents real-time talking points when Coronavirus comes up on their calls.
To do this, create a new Deck category called "Coronavirus" and add "Coronavirus" as a Deck item.
Use the following keywords to trigger this recommendation: coronavirus, virus, covid, pandemic.
Here's an example of what your Deck item might look like.
Real-Time Coronavirus Talking Points
Real-Time Dashboards that Refresh Every 10 Minutes
Until recently, your managers were probably able to walk the call center floor to check in with agents, listen to calls, and provide quick bits of coaching feedback. With your call center now remote, your managers might feel like they just lost their ability to coach, supervise, and QA their teams. Balto is here to help.
In Balto Cloud, managers can see exactly what agents are saying on their calls. Balto's dashboard suite keeps managers up to date in real time, showing how consistently agents are hitting their key talking points, using the appropriate responses to customers' objections and questions, and avoiding red flags like profanity or confrontational language.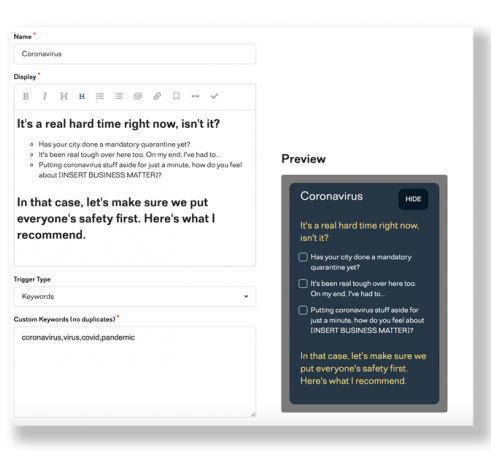 Until recently, your agents probably had sticky notes peppering their computer monitors. Those sticky notes probably had some coaching advice ("SLOW DOWN"), some motivational reminders ("Every 'No' is one step closer to a 'Yes'!"), and some personal goals, ("5 appts./week to hit bonus").
Now that your team is remote, agents' monitors are probably pretty bare, and your team is looking for a strong, unifying message to keep front and center.
Use your Balto Sticky Note to push out a unified message to your entire team. Here are a few great Sticky Notes we've seen from our customers (used with permission).
Here are 3 real-time Balto dashboards that your managers can use to drive performance remotely:
Checklist Dashboards - How consistently is your team hitting all of their key points? Use this dashboard to see how Checklist use is trending over time, see which agents are hitting their key points and which aren't, and drill down into Checklist use call-by-call.
Get started by clicking this link: https://baltocloud.com/dashboards/checklist
Decklist Dashboards - How often are agents using the right rebuttals to customers' objections, the right answers to customers' questions, and the right talking points for sensitive topics like the coronavirus? Find out using your Balto Decklist Dashboards.
Get started by clicking this link: https://baltocloud.com/dashboards/decklist
Post-Call Dashboards - Balto's Post-Call section is the perfect place to monitor calls in real-time for red flags like profanity and confrontational language. Setting up a Red Flags dashboard is easy: click the Post-Call section of your Balto playbook builder, create a Red Flags category, and add any suspicious items you'd like to look for as items in the Red Flags category. You can then access your real-time analytics by clicking the Dashboards tab, clicking Post Call, selecting the Red Flags category, and then clicking Filter.
Get started by clicking this link: https://baltocloud.com/dashboards/postcall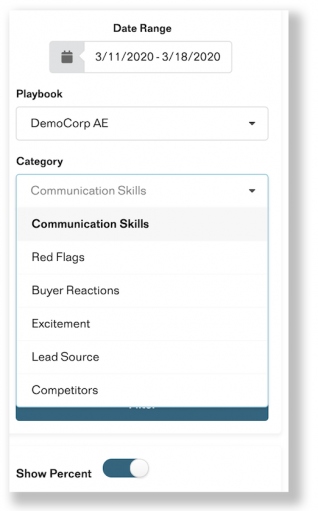 To update your Sticky Note, go to the Playbooks tab, click the appropriate playbook, click Sticky Note, then edit away. Be sure to save your changes and push them live to agents using the Save Draft and Publish buttons in the bottom left corner.
Most managers have dedicated time to coach an agent on an important behavior change that ended up changing nothing.
That's normal. People forget things. Change is hard. Managers typically address this by keeping an "ear to the floor" to listen for whether or not the agent is applying the coaching. With agents working remote, that's gotten more difficult.
You can help reps put their coaching to practice by asking them to update their personal Balto Notes with a quick reminder of what they learned. Your agents can find and change Balto Notes right below the Sticky Note in the Live Call Guidance application. Agents can simply click the Notes section, type a quick coaching reminder, and it will automatically save.
Here are a few examples of content agents can add to their Notes section.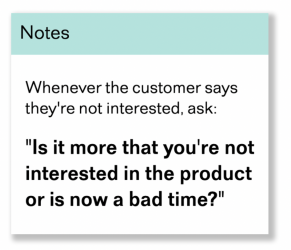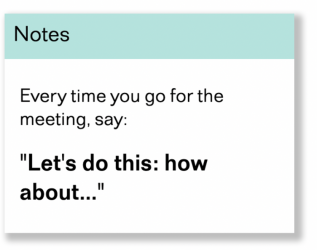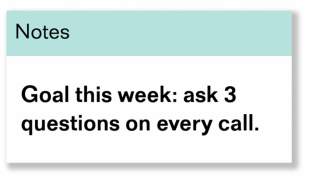 Let's imagine you just coached an agent to ask more discovery questions on their calls.
One week later, how do you know if they've actually gotten better?
Most managers will look at the agent's overall win rate to answer that question. If the agent's win rate went up, the manager assumes, the coaching must have worked.
Using agents' win rates to gauge coaching success isn't ridiculous, but it also doesn't reflect how well the agent is executing the behaviors you asked them to improve. To make sure agents are actually applying your coaching, you'll need to measure how often they're executing the right behaviors.
Balto's tags give you the ability to coach individual agents and track how well they're applying your coaching. You can create a tag for each agent and filter your dashboard results by agent, or you can create a tag for a group of users to see how the group is performing as a whole.
To create tags in Balto, click the Users tab and then click Manage Tags at the top right. Create a tag for the agent you want to coach, for example, JohnSmith, and then click Add. Your tag will appear in the Filters section the next time you refresh your dashboard.
Call center managers recently lost a lot of visibility in how they coach, supervise, and QA agents. It used to be easy for managers to keep their ears open for what agents were saying on the floor. With the widespread and immediate transition to remote call centers, managers are looking for whatever tools they can get to gain visibility into agents' calls and drive team-wide performance from afar.
At Balto, we are here to make your managers' lives easier and make their coaching more effective than ever.
Stay healthy and see you soon,
Team Balto
Once you've added tags to your team, here are few things you'll want to coach on:
Questions. Did you know, on average, an agent who asks 1 additional question per call compared to their peers will increase their success rate by 24.9%?

Proactivity. Assumptive language like, "Let's do this…", "I'm going to…", and "How about we…" outperforms non-assumptive language by more than 2x in getting to a successful call outcome.

Decklist. How often is the agent using your key talking points for rebuttals, FAQs, customer concerns, and other Decklist items compared to their peers? Use Balto's Decklist dashboard to consistently coach reps to use the right talking points and handle difficult situations as effectively as possible every time.